Border runs used to be the way that people would stay long term in Thailand without a specialized visa (for education, work, religion, etc).
Starting from 2018 however, foreigners are restricted to border runs to two times per calendar year.
That means 3 total stays, where the length of one stay is 30-days (or 45-days for the special period between 1 Oct 2022 until 31 March 2023).
Keep in mind although this is the 'official stance', there is no hard and fast rule on the number when it comes to real life immigration officials.
They may grant you 3+, or they may stop you after your first border run if they feel like you are 'abusing the system'.
That means using infinite border runs to live in Thailand is no longer possible. If you want to stay long term, you are better off getting an Education Visa (you can study any language, not just Thai), an Elite Visa, a retirement visa, or a LTR visa.
The border run method does work as a short term strategy if you only want to extend your stay in Thailand by 30-days/45-days.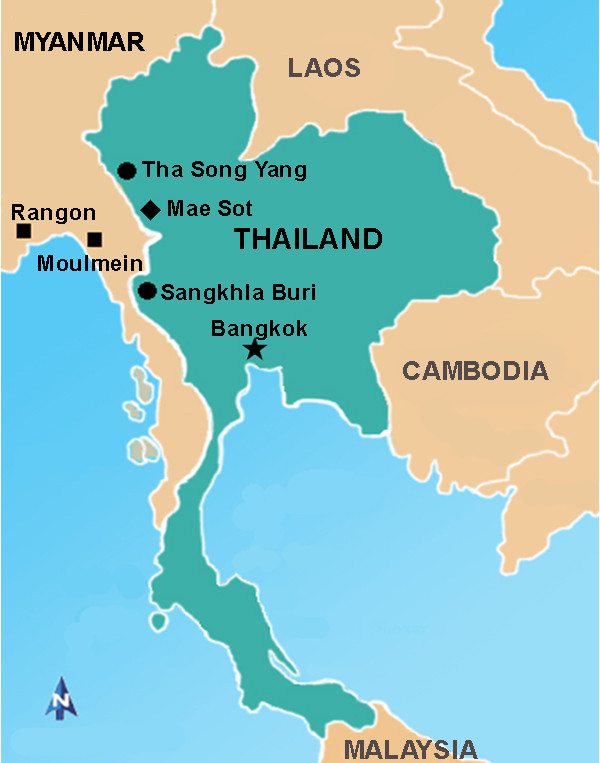 The border run relies on the Visa Exemption stamp, which applies to around 70% of passport holders around the world Please check the Visa Exempt Countries before you do a border run.
Myanmar/Burma
The land border is currently closed to non-Thai, non-Burmese passport holders.
In the past, the most popular location for the border run was Myanmar:
Ban Phu Nam Ron border for people in Bangkok (West Thailand, 5 hr train ride)
Mae Sai border for people in Chiang Mai (North Thailand, 4.5 hr bus ride)
The border has been closed since 2021.
People do not see this changing anytime soon; the ongoing civil war has no end in sight.
Keep in mind when people recommend a Myanmar border run they are usually going off of their experiences from before the civil war started.
Laos
The Laos border run is still possible today, and is the most popular place to make a run since Myanmar closed its land borders.
Starting from Chiang Mai: There are regular buses from Chiang Mai to Huay Xai, a Laotian town on the Thai-Laos border.
Starting from Bangkok: Take an overnight bus from Bangkok to Vientiane (the capital, and largest city in Laos). You can also take a train from Bangkok to Nong Kai, a Thai city on the Thailand/Laos border.
You will need:
Passport
Passport photo
Application form (a good bus service should provide this)
$40 (~1400 THB) to pay the Laotian visa fee. Bring more in case the office overcharges
Cambodia
Cambodia is the closest border run option if you live in Bangkok (Poipet border crossing), however most people end up going to Laos anyways.
This is because of low trust in the immigration system and high probability of being scammed.
At Thai Solutions we would recommend avoiding this method altogether.
Malaysia
Malaysia is a viable option if you live in Southern Thailand.
What's Changed
In the past, you could make infinite "border runs" by popping over the land border into neighboring Myanmar, Laos or Cambodia, and then getting a new 30-day Visa exemption on the way back. Many people lived in Thailand long term using this method.
Starting in 2012 however, the Thailand Ministry of Interior started to crack down on border runs.
They decided that if people who spending 6 months in a year in Thailand in exemption status, they were abusing the Visa Exemption.
So people limited their Visa Exemptions to 6 months and used other methods (such as Education Visa) to start in Thailand for the other 6 months.
In 2018, further restrictions were introduced: you can now only get the visa exemption stamp two times per calendar year. So the border run method as a means of living in Thailand is effectively dead.
Other Methods to Stay
An Education Visa is the least hassle-free method: it will allow you to stay 3-months up to a year.
If you are working on a business in Thailand you can also consider a Business Visa.