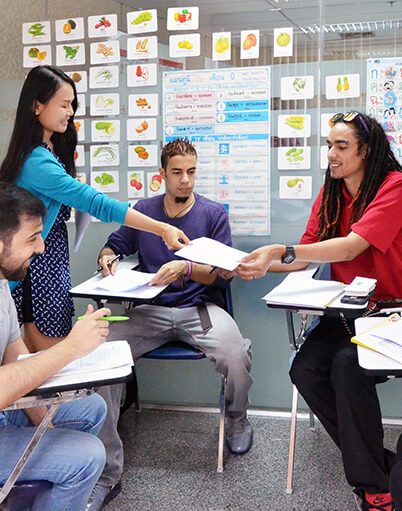 THAI SOLUTIONS MISSION STATEMENT
TO ENHANCE THAI CULTURE, THAI GLOBAL BUSINESS OPPORTUNITIES, ANDUNDERSTANDING OF WORLD MARKETING THRU TEACHING THAI, ENGLISH, JAPANESE AND CHINESE LANGUAGES.
4 Point Goals for Thai Solutions.
Sarotorn Phayathai Language School ( Thai Solutions ) is Accredited by
The Thai Ministry of Education and The Swedish National Agency for Higher Education (CSN)
LEARN THAI LANGUAGE WITH THAI LANGUAGE SOLUTIONS
WE REALLY WANT TO HELP YOU TO ENJOY THE EXPERIENCE.
Because of the teachers experience and unique style of teaching also good training for teaching method and special Technics in all classes, therefore our students are able to learn and communicate to each other easily and enjoy not stress.
Also all the students will be able to speak, listen, read and write in short period. Beside all those the teachers always be your best friend as well to help, to advise about living in Thailand, you will not feel that you are alone if you decide to become our family.
That is why our Thai language School in Bangkok is so successful more over 10 years. We understand this and we really want to help you to enjoy the experience.
We offer outside lessons as a group or a private at residence or company.
ทางโรงเรียนรับสอนภาษาไทยให้กับชาวต่างชาติ ทั้งแบบกลุ่ม และส่วนตัวที่บริษัทของท่าน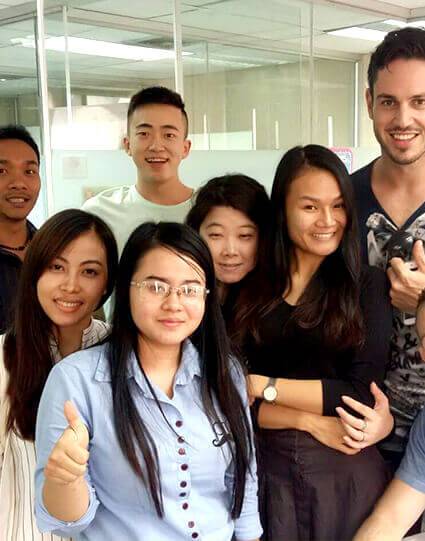 What People Say
Please have a look out clients who love to share with you what they think about us and Thai Language Experience.

FRANCESCO DEVINCENTIS – ITALY (READING AND WRITING THAI COURSE/THAI CULTURE AND SOCIETY COURSE)
" The school is very comfortable and well connected. Classroom is clean and bright.
The lessons are completed, covering full aspects of Thai language and Thai culture.
For advanced course, the school provides new materials, lesson by lesson about articles,
Ordinary Thai life due to be confident with modern Thai language.
Teachers explain the root of Thai terms adding all the tricks to be in Thai reading, writing and talking following grammar rules.
Thank you Thai Solutions Bangkok."

DMITRI AGEEV – RUSSIA (THAI FOR INTERMEDIATE AND THAI CULTURE COURSE)
" The school is located in convenient region to reach,easy access by any transport.
The classroom built and design good enough, convenient for lessons.
The lesson in my experience were very information, funny enough and atmosphere keeps you
fresh and not tired which helps to have a long lesson.
During my education course,I had 3 teachers and want to thank them for their help and teaching way they have.
I always got answers to my questions and they are good in explaining the material and they feel it very easy how to teach different people in group at the same time.
The benefits which I have got from the school is the result of education as a part of teacher job to make
student interested, the school made me really interested in it and helped me to get level of Thai language.
I started to understand Thai culture much better than before and it helps me to feel better in Thai Society, make new friends and be closer to specific and amazing being in Thailand.
Thank you Thai Solutions Bangkok"

BO MIN AUNG – BURMA (READING AND WRITING THAI COURSE)
" It is good and easy to come by BTS and Airport Link.
Class schedule management is the best and it gives students more time to do other things.
Reading and writing Thai are developed.
Thank you Thai Solutions Bangkok."

OLIVIER FREDERIC – FRANCE (THAI FOR BUSINESS COURSE)
" Very good location. Every day I go to school is a new experience.
The benefits are when I go out, I can speak Thai with Thai people and they can understand me better.
Thank you Thai Solutions Bangkok."

WAYNE – BELGIUM SPECIALIZED LEARNING
" Excellent location and parking. I liked the lessons we had. The topic seemed difficult at
First but finally I learnt a lot of new words and could understand most of the lesson that
Increase my self confidence. My Thai skills improved a lot. I can understand taxi drivers,
Order food in Thai. I can feel that Thai people are more open to me because I can speak Thai language !. Thank you Thai Solutions Bangkok."

JIM LAWSON – USA (PRE INTERMEDIATE)
" Convenient at BTS skytrain Phayathai, Good air condition, clean and quiet.
I take a private lesson to learn for my needs – excellent quality.
I understand Thai culture When I try to think, hear and speak in Thai.
I have more freedom to explore Bangkok And other areas.
Thank you Thai Solutions Bangkok."

FORTIER- GARCEAU SIMON – CANADA (THAI FOR BEGINNER COURSE)
" The school is well-located off BTS Phayathai station.The lessons were well-coordinated
And progressive. The atmosphere with the other students was quite good.
Teachers were friendly and had a good approach that used games to allow interactive learning in between the students.
I am happy to expanded my learning Thai Culture.
Thank you Thai Solutions Bangkok"
Latest News
Education news all over the world.