My name is Kevin. I moved to Thailand a year ago from California, USA and started to study Thai at Thai Solutions School.
I'd say now I have basic conversational and reading fluency; I can talk to anybody and read signs and menus.
Over this time period, I've consumed dozens of podcasts, apps and books. These are the apps that have had the greatest impact on my learning.
1. Pocket Thai Master (PTM) by Evan Winget
Cost: Free
If you download one Thai language app, this should be it. Evan Winget's Pocket Thai Master is a comprehensive text-based course on practical Thai language and Thai culture, and one of the best resources I've discovered for learning Thai.
Winget has clearly put a lot of love into this, and he has a knack for clearly explaining the systems and rules of Thai language.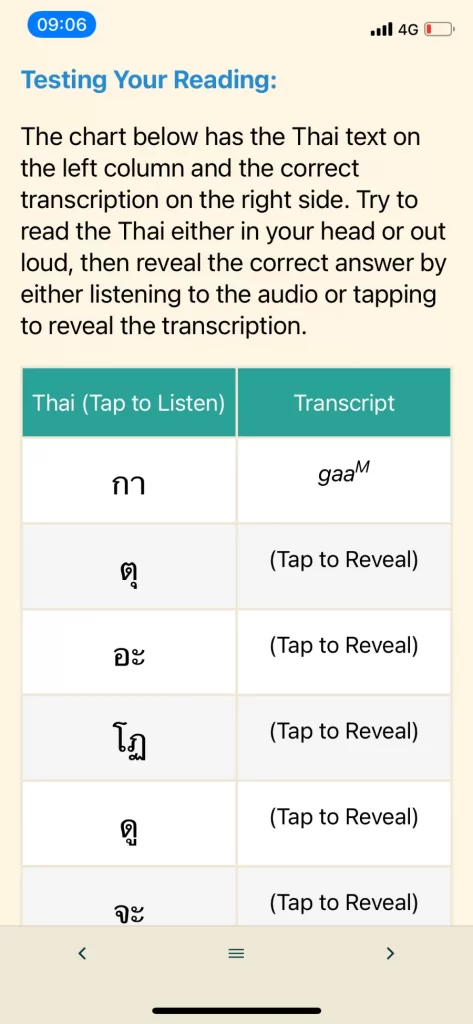 Many courses just teach you words – Evan Winget teaches you the nuances, everyday use patterns, and cultural context of the words, making it much more useful than most language apps.

For example: how to greet people of different age and status, words that are taught but no one actually uses, when to wai etc.

It's like a living textbook – all Thai words can be tapped to play a pronunciation audio
Builds from the basics up to more complex grammatical structures
Includes cultural lessons tied to the language lessons on topics such as Religion, Politics, Holidays
Cons:
If you don't enjoy reading and are looking for more of a flashcard or dictionary style app, this is not for you.
2. Thai-English Dictionary
Cost: Free content, $10 to unlock all content
Great for learning about how to actually put words in context. And a huge bonus: it's all offline!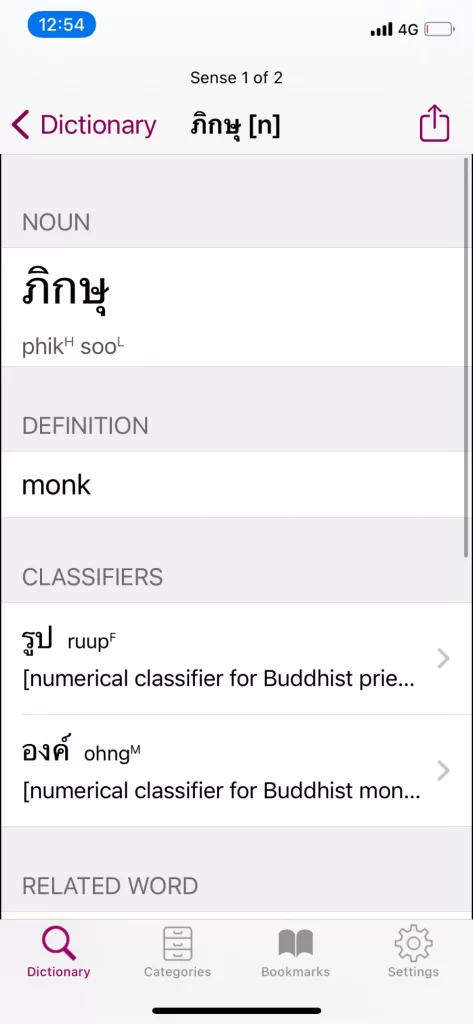 3. Nemo Thai (Thai by Nemo)
Cost: Free content, $10 to unlock all content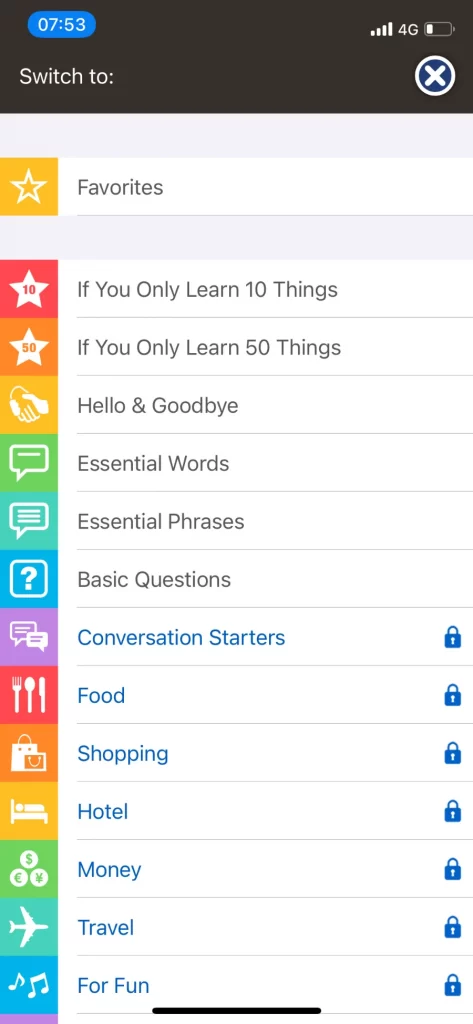 Nemo should be the first Thai language app that you download. Nemo is designed to start you speaking the most useful words in Thai immediately and confidently.
Easy to use interface. You can get started immediately with flashcard type lists that teach speaking and writing
Multiple settings:

flashcard mode
voice mode where you record your voice and then compare it to the native speaker's recording
accent mode that does the same thing but in slow motion

My pronunciation got much better using the voice mode. Thai tones are notoriously difficult for Westerners to learn.
Many word lists for specific contexts. Easy to brush up on lists when you need them, for example the Food list when you are at a restaurant.
Cons:
The app featured some words that are old fashioned and barely in use. For example the app features the word tok loong, which means "OK". Tok loong is not commonly used by Thai people, who will just say 'OK'. Verify words you are unsure of with your Thai friends or teacher.
4. Ling App
Cost: $79.99/year or $15.99/month
Fun fact: even though the Ling App features 60 languages, it began as a Thai language app. One founder is Thai and the team is based in Chiang Mai. This is why Ling App has a Thai name: Ling is Thai for Monkey!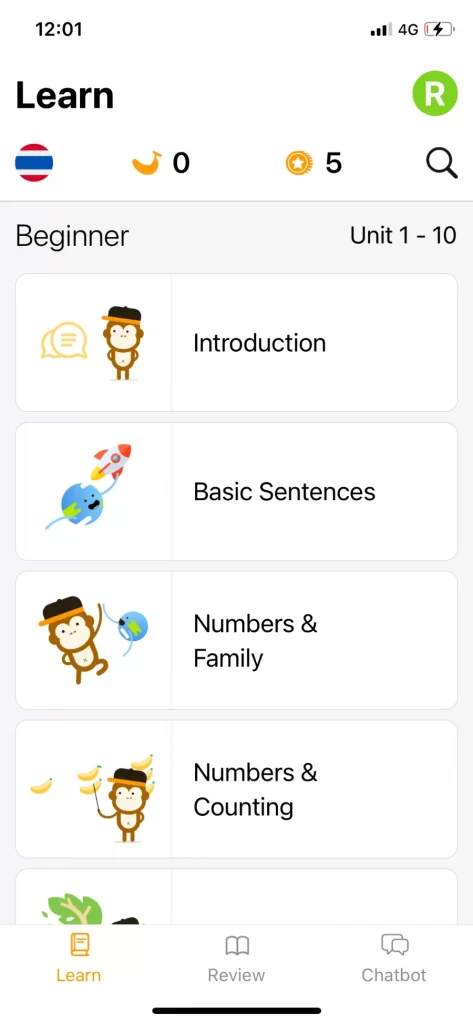 Ling App is structured into themes like "Numbers & Counting". Each theme has lessons comprised of vocabulary & quizzes for listening, speaking, writing & reading. While some apps are distracting with the interactivity I think Ling App is quite well designed.
Review tab – takes all the lessons you have finished and presents them in a reviewable format.
Chatbot – records your microphone and encourages you to speak to the chatbot. I think this feature could use more polish but its a wonderful idea.
5. Mondly – Learn 33 Languages
Cost: 7 day trial, then $9.99/month for access to all languages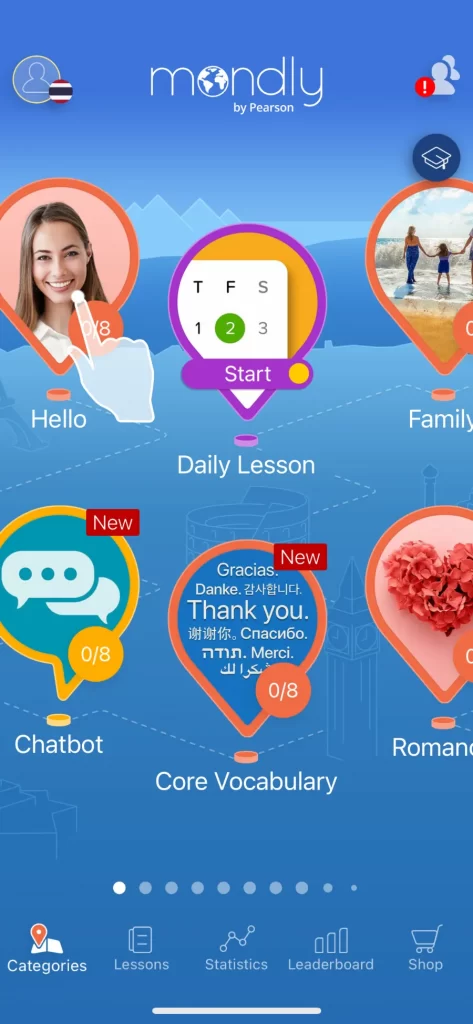 Mondly is another quiz style learning tool with a focus on vocabulary and repetition. I recommend Mondly a good refresher tool for those who have already learned some Thai language. Absolute beginners may be frustrated because it does not start with language basics such as the alphabet.
Mondly has a lot of useful features:
Daily lesson: gives you interactive quiz around a certain vocabulary word or concept.
Core Vocabulary: Lengthy quiz style lessons to teach you core vocabulary
Thematic Vocabulary: Quiz style lessons about topics like romance, travel, public transportation.
Cons:
Difficult to know where to start. You can do the lessons in order but I feel like the app encourages you to jump around a lot.
Apps that I didn't like
Drops: Language Learning Games – While it has pretty animations and interactivity, I thought it was gimmicky and slow. You might as well use Anki. It does have a daily practice feature.
Other resources
http://www.thai-language.com/ – older website: a fantastic, very comprehensive resource
https://www.thai2english.com/ – best translation app for full sentences